Composition of HARUMA WAY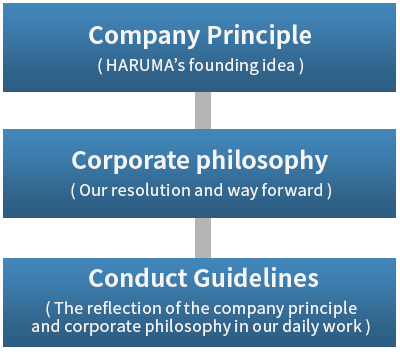 The Company Principle — the Company's founding idea — was set as the supreme concept, and then developed, and the path HARUMA has continued to follow was established as its "Corporate Philosophy."
We practice our Conduct Guidelines each day with the aim of embodying our Company Principle and Corporate Philosophy.
The Company Principle
To contribute as a business enterprise to society and increase the prosperity of our lives by producing products of superb quality at low cost.
Corporate Philosophy
We at HARUMA Group shall work together as a technology oriented corporation to provide value beyond customer's expectations in a creative and original way, and to spread joy to people all over the world.
Conduct Guidelines
Preface
We will work towards our dreams in a proactive manner. To do so, we need to sharpen our sensitivity to change, inherit and accumulate technology & wisdom, and grow. This will result in an excellent working environment, enabling us to produce new ideas. We shall follow the conduct guidelines shown below:
1. Quality and cost to please everyone
• Each of us will manufacture products from our customers' perspective, focusing on quality and cost to please everyone.
2. Independence & self-discipline, and pursuance of the value of time
• Each of us will change and grow by ourselves to reform and develop HARUMA.
Each of us will fulfill our own commitments, plans & schedules, and will increase the value of time through concentrated thinking and behavior.
3. Teamwork developed through free and frank discussion
• Each of us will respect diversity and express our own views to each other, enjoy in free and frank discussions to grow together.
Each of us will recognize each other as a colleague with the same spirit, and work together to overcome difficulties
4. Continuation based on essence
• Each of us will capture the essence of tasks, set goals based thereon, and continue to work to complete such tasks without diversion from the essence.
5. Fair business activities & contribution to the community
• Each of us will work with honesty to carry out fair work activities and create a lively, safety-first workplace of which we and HARUMA can be proud.Each of us will participate in community-based activities on our own initiative and share our joy with others.